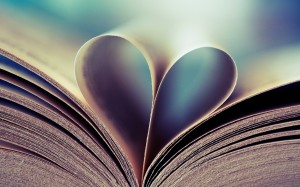 In honor of Valentine's Day, I wanted to share what I love most about freelancing:
Other writers: I may work from home but that doesn't mean I don't have colleagues or (virtual) water cooler conversations. Most of my closest friends are writers; we dish about editors over lunch, brainstorm story ideas via Skype and support each other in online forums. Writing has connected me with some truly fabulous people.
Working at home: Yeah, I talk about this all the time. But few things get me more excited than walking to the office, working with dogs sleeping at my feet and wearing slippers all day. There is another reason I love working at home: I'm an introvert, which means I struggle to work in a noisy office and find the cubicle culture, with coworkers popping by to chat, exhausting. So, I'm happiest and most productive when I work at home.
The flexibility: I may prefer working at home but I have the opportunity to work from anywhere. I've filed articles from a hospital waiting room, a mountain cottage and 30,000 feet in the air (gotta love airplane WiFi). I can schedule interviews and writing time around things that are important to me like volunteering for dog rescue and deep stretch classes.
Interviewing interesting people & asking nosy questions: I've heard stories about falling in love, overcoming addiction, breaking gender stereotypes and building businesses from interesting and influential sources. As a curious person who loves learning new things, the opportunity to call strangers and ask questions about their lives and work is pretty darn fabulous.
The challenge: When I had a corporate job, there were limited opportunities to take on special projects. As a freelancer, I can challenge myself to break into specific magazines, reach new income goals, sell a book proposal or launch new programs. My real job is building a business I'm proud of — and that's one of the things I love most about freelancing.
Your turn: If you wrote a love letter about writing, what would it say?
Psst: I know why your queries are being rejected
No one likes to be rejected. But it's part of being a freelance writer. And, when you send five+ queries per week, rejection happens. Often
Here are five of the most common reasons editors pass on your ideas.
1.    The idea isn't fresh.
Editors use this phrase so often that freelancers cringe at the mere mention of the F-word. The demand for fresh ideas is unavoidable – and that means pitching an article about a tried-and-true topic or trend is going to lead to rejection.
To avoid the "it's not fresh enough" brush off, work to come up with clever angles to hot topics. For example, when urban farming became a hot topic, I pitched an article on the increase in farm animals being dumped at animal shelters when homesteaders got tired of raising small livestock.
2.     It's not the right fit for the magazine.
You'd never pitch an idea about the best burger joints to Vegetarian Times, right? While this is an obvious example of an idea that will lead to certain rejection, there are more subtle instances when an idea is not a good fit like pitching a travel idea to an in-flight magazine for a destination the airline doesn't service.
I used to write a regular feature for Entrepreneur about startups founded by college students. PR people started sending me pitches asking me write about their clients. At least 95 percent of the pitches I got were about businesses started by middle-aged men, not college students. Delete, delete, delete.
You can avoid these gaffes by studying a magazine closely to understand the kinds of articles editors are looking for.
3.    The topic was covered in a recent issue.
It happens to all of us: In a burst of enthusiasm for an idea, we send a pitch to a magazine without doing our due diligence. One of the most memorable rejections I received was from an editor who said, "We love this idea. We loved it so much that we made it the cover story in our current issue. You might want to pick it up and read it." Ouch.
Unless you have a crazy good memory like Sheldon on the Big Bang Theory, you can't be expected to memorize every article that every magazine has ever published. But you can check a magazine's website and flip through the most recent issues at the library before sending an idea. If I'd spent five minutes looking at the website for the magazine I pitched, I would have noticed the cover of the current issue with my idea plastered across the front.
4.    It's not a good idea.
Sometimes, an idea just isn't up to snuff. You might be pitching a topic that is too broad instead of a well-defined angle or an idea that is too ho hum to take up valuable space in the magazine.
While teaching classes and mentoring writers, I have discovered that we're often too close to our own ideas to be impartial about them. If you're not sure whether your idea has merit, solicit feedback before writing a query. A writing group, goal buddy, writing instructor or coach can help you tweak – or toss – an idea that lacks polish.
5.    The query is poorly written.
A lot of good ideas are rejected because of poorly written queries. If an editor thinks the pitch is riddled with misplaced commas, passive voice and mixed metaphors, their next thought is, "How much worse would an entire article be?"
Your query is your introduction to an editor. It should be, pardon the pun, pitch perfect before it flies through cyberspace to an editor's inbox. Write, rewrite, revise and revise a little more before hitting send. Spending extra time to write a great pitch will minimize your chances of rejection.
When I started freelancing, I had a "never say no" philosophy about assignments.
Taking every assignment that was offered helped me build my career. It also established a bad habit – one that has taken me years to break.
The default "Yes" response when an editor called or emailed to offer an assignment meant that I never considered whether I had time to squeeze in more work (leading to a "no sleep, no problem" philosophy that defined the first several years of my freelance career) or whether taking the assignment was the best career move. As it turned out, cranking out articles about a local puppet theater and the opening of a new restaurant meant that I didn't have time to pitch stories I was excited to write.
Since I'm a girl who loves a list, I came up with three questions to help me evaluate whether to accept an assignment.
1.    Will it help me meet my income goal?
You could argue that every paying assignment puts me one step closer to my income goal. I know from experience that attempting to cobble together a living wage by cranking out articles that pay $50 is impossible. Before accepting an assignment, I consider the fee that is offered and estimate the time it will take for research, interviews, writing and revisions.
In asking this question, it's become clear to me that an impressive-sounding fee is not a sure path to meeting my income goal; I often earn more per hour for assignments that pay a modest rate than those that pay $2/word because of the amount of work and number of revisions involved.
2.     Is it a magazine I want to write for?
If I want to break into a new magazine, I'll take an assignment even if it's not a topic I'm super excited about or the article is a quick turnaround FOB. (BTW, I know some writers shun short assignments but I never balk at writing them, especially for magazine or editor I haven't worked with before. I believe it gives us a chance to see if we work well together).
3.    Is it a story I want to write?
You know my three-legged stool analogy includes writing articles for the sheer love of the topic or organization, right? If I am offered an assignment on a topic I'm passionate about, I'll make time in my schedule to take it on. A caveat: Every story can't be a story you really want to write.
I know some writers will try to convince themselves that they really want to write an article/accept an assignment because they want/need the check that will arrive in the mail when the assignment is complete. Been there, done that. Now, I do a gut check: "Is it worth it to take on this assignment when I'm not excited about the topic?"
I'll accept if it's a magazine I want to write for or the fee is too good to pass up. If the topic is boring, the magazine is ho hum and the fee is abysmal, I pass. I'd rather focus my energy on pursuing assignments that meet at least two of my criteria.
My track record isn't perfect.
In 2013, I accepted a few assignments that met ZERO of three criteria. I felt like the wallflower at the high school dance when the editors offered work: so flattered to be asked that I couldn't say no. Suffice to say, neither experience was a good one. So, I started the New Year by taping the questions to my computer monitor. Now, they are front and center when an email comes in or an editor calls.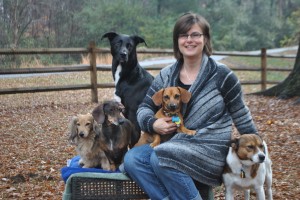 When I showed my five-year-old niece a picture of a puppy I fostered, she said – with an exasperated tone only a kindergartener can muster – "Another dog? How many dogs do you have?"
I have five dogs. Too few for a sled dog team but more than enough that my niece has stopped calling me Auntie Jodi and started referring to me as The Crazy Dog Lady.
I'll confess that it's cliché to talk about "What Dogs Taught Me About…" but I couldn't resist an excuse to share some dog-related anecdotes.
The dogs have taught me a lot about patience, loyalty and the value of a long walk. I've also developed an incredible sense of humor and complete inability to feel embarrassed thanks to their antics. (During a trip to Home Depot, Molly, a registered therapy dog, pooped in the paint aisle)! And, of course, the dogs have taught me a lot about freelancing.
Trust your gut: Sampson knew he wanted to live with us. He belonged to the neighbors but often escaped from their house and ran straight to our back door, scratching until I let him in. It happened several times (each time, he hung out here for a while and then I walked him back home) until the neighbors asked us if we wanted to give him a permanent home. He's been here ever since. Dogs are said to be good judges of people and situations, right? I believe that we all have the same gut feelings about, well, everything.
A few months ago, a new-to-me editor offered me work. I had a nagging feeling that the assignment was not a good fit; the feeling was so strong that I asked if I could consider the project overnight. Even though something felt off, I accepted. And it was a nightmare. If Sampson was running the business, he would have darted away from that editor and found a new assignment to take its place!
Unbridled enthusiasm: I have whooped and hollered and kicked up my heels with glee for lots of reasons but never as often as my dogs. It's comical to see their reactions when I jingle a leash or open the food cupboard.
I may not succumb to the same unabashed glee at the mention of "assignment" as the dogs do at the mention of "walk" but I try. After 12 years of freelancing, I still LOVE my job and I've come to understand that pursuing projects I'm really, really excited about is one of the best ways to maintain that feeling of joy that can be forgotten when deadlines are looming.
Making time to play: Every day around 3 p.m., Sampson trots into my office with a green ball clutched between his teeth and drops it at my feet. If I ignore him, he picks it up, drops it again and uses his nose to push it toward me. It's the doggie equivalent of, "I need some fresh air!" He's too cute to resist so I open the back door and release the hounds. After 30 minutes of playing, I get back to work – and I feel so much better. Cliché? Yes. But oh-so-true.
The importance of loyalty: A list about dogs wouldn't be complete without a nod to their loyalty. Dogs think their owners are rock stars and will go to great lengths to please them. I value the same trait in writer/editor relationships. I'm loyal to regular clients, working overtime to meet tight deadlines or putting in extra effort to source photos or accommodate other requests. Loyalty has helped me develop long-term relationships and develop my freelance business beyond my wildest dreams.
If you spend any time hanging out with freelancers or reading writing blogs, the term LOI will eventually come up.
As the name implies, a letter of introduction or LOI is a short letter that writers use to introduce themselves to editors. It includes:
* A short salutation
* An overview of their skills and experience
* A list of relevant publications
* An expression of interest in working together
Here is an example of an LOI I've used to approach editors:
Dear Claire,
I hope all is well. I wanted to send a note of introduction and express interest in writing for XXX magazine.
As a freelance journalist with a decade of experience writing about health topics, I offer the experience and passion it takes to turn the latest medical studies, health statistics and trends into articles that are both informative and interesting to read. I'm skilled at developing fresh story ideas, interviewing top experts, crafting copy in a voice appropriate for the magazine and I never miss a deadline.
I understand the relationship between marketing and journalism and have a strong track record for meeting the needs of the client while producing content that is engaging for readers.
My work has appeared in popular newsstand titles such as Shape, Women's Health, Family Circle, Natural Health, Woman's Day and Arthritis Today. I've also contributed health article to numerous custom publications, including Costco Connection, Caring4Arthritis and Restore. Published clips are available at www.jodihelmer.com.
I'd love to learn more about your freelance needs and hope we'll have the chance to work together to bring health and fitness articles to readers of XXX.
All the best,
Jodi
LOIs are often used in place of queries to approach editors of custom publications, trade magazines and corporate clients who develop their editorial calendars/content needs in-house and need writers who can turn those ideas into articles. (In contrast, editors of newsstand magazines and consumer websites tend to prefer specific pitches tailored to their publications).
Writers like LOIs because it's much easier to write a brief overview of your background and skills than to research ideas that are tailored to specific publications. But I want to offer caution about letters of introduction.
Too often, writers take a blanket approach to sending them out. Instead of customizing an LOI, freelancers write a generic letter and send it out to dozens of editors in the hopes tha spending a little time to reach a lot of potential clients will lead to work. I think it's a mistake.
I have several generic LOIs (for health, personal finance, food & beverage, etc) like the one above that I use as a template.  When I want to approach a new editor, I open the relevant letter and spend time customizing it to the specific editor/publication. For example, I look at the website and previous issues of the magazine, check out the editor's LinkedIn profile an highlight relevant connections or commonalities (working with the same editor, attending the same college) and mention a specific article or familiarity with their clients. When the editor reads it, I want it to be obvious that the letter was tailored to their needs.
Remember, an LOI is not a one-size-fits-all approach. Editors need writers who can interview sources and put together compelling articles but editors also want writers who can come up with creative ideas. While an LOI can be effective — and a lot of freelancers love them — I believe that incorporating a few targeted ideas within an LOI is a more effective approach than hitting "send" on a generic intro and hoping it works.
An LOI should be one of the tools in your marketing arsenal. Your success rates will skyrocket when you take the time to tailor the letter to the editor and his/her publication.
If you've had success sending LOIs, I'd love to hear your tips for capturing an editor's attention.
When I started freelancing, I signed up for a one-on-one mentoring session during the ASJA conference. My mentor shared an analogy with my that has become the cornerstone of my freelance business — and one I encourage other writers to adopt: Freelancing is like a three-legged stool.
Each leg of the stool represents a different element of your freelance business: The work you do for love, the work you do for money and work that is related to writing but not writing.
Here's how the three legs look for me:
* I write about farming/sustainable agriculture and dogs for love. In general, the magazines that publish articles on these topics tend to pay lower rates. Since the subject is a personal passion, I love interviewing sources, researching new topics and trends and putting together articles that will benefit readers–but I can't make a good living writing about conservation tilling and choosing the right farm dog.
* I write brochures, press releases and certain magazine articles for money. Making a good living is important to me, which means I make some decisions based on my bottom line. Writing for money isn't as soulless as it sounds. I often learn something new and work with great editors/content managers but the work is often less personally fulfilling.
* Teaching/coaching is the third leg of my stool. It's an essential part of my overall business mix — and it's work that I love — but it's different than writing articles. Other writers teach fitness classes, design websites and offer copyediting services. The third leg of the stool is less about supplementing writing income (although that is one of the benefits) and more about kicking off the bunny slippers and getting out into the world.
For a three-legged stool to balance, all three legs must be (approximately) the same length. If one leg is too short, the stool will wobble or topple over. In other words, you can't build a sustainable writing business by only building one leg of the stool.
Spend too much time writing for love and the cupboards will be bare and bill collectors will come calling.
If you only write for money, work will feel like a chore (even with casual work attire and flexible hours).
Focusing on the third leg of the stool will take you away from writing. It's hard to research queries and write articles — for love or money — if all of your time is devoted to teaching or making coffee.
As you launch or build your freelance career, how will you build (or readjust) the measurements of your three-legged stool?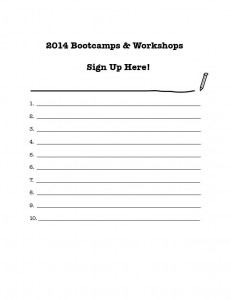 The New Year is shaping up to be packed with writing workshops and conferences.
If you're looking to launch a writing career, expand your freelance business or get your creative juices flowing, check out these workshops:
Your queries may be getting rejected because the ideas aren't on target, the pitch fails to emphasize a wow factor or it's the wrong idea for the wrong magazine/editor. Perhaps the number one reason you're not generating more work — or landing lucrative assignments — is because you're not sending queries at all.
Whether you're just starting out or need support to give your freelance career a boost, Query Bootcamp can give you the tools and inspiration to go from pitch to publication.
In this six-week class includes videos with helpful information about successfully querying editors, help turning ideas into packaged pitches that sell, detailed critiques to increase your chances of acceptance and ideas to expand your businesses through targeted queries and letters of introduction.
Dates:                         January 20 to February 24 (Wednesday evenings, 7 to 9 p.m.)
Location:                    Virtual
Cost:                            $199
The premium version, which includes three 30-minute calls for one-on-one support, is $299.
Travel writing is a job most people dream about – learn how to make that dream come true. This class will help new writers learn how to develop ideas, approach editors, write articles and travel the world for free. In-class exercises, homework and thoughtful critiques will help you hone your writing skills and get one step closer to getting published.
Dates:                         February 18 to March 11 (Tuesday evenings, 6 to 8 p.m.)
Location:                    Queens University/Charlotte
Cost:                            $139 (register through Queens)
Introduction to Freelance Journalism
Freelance feature writing is a staple of magazines, alternative weeklies and daily newspapers. Whether you're interested in entertainment, sports, travel, business, or profiles, this course offers a primer in the fundamental skills of interviewing, reporting, writing, and editing – all of which go into creating the thoughtful, vibrant and well-constructed feature stories editors want.
Dates:                         February 12 to March 26, Wednesdays from 7 to 9 p.m.
Location:                    CPCC Cato Campus/Charlotte
Cost:                           $110 (register through CPCC)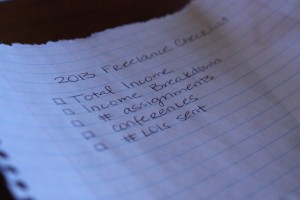 December is pretty quiet in the freelance world. Since I'm not racing to meet deadlines, I have time to crank up the carols, shake the presents under the Christmas tree, drink chai and make plans for the New Year.
In addition to sending cards to editors, planning new classes and writing queries (that I wait until January to send), I'll conduct an annual review to get some essential information about 2013 that will help me set goals and make decisions in the New Year.
While it sounds like a boring exercise for MBA students, it's one of the most important exercises a freelancer can do.
Here is the information I collect:
* Total income
* Income breakdown (a dollar value and percentage of income to calculate how much of my income came from magazines and websites (broken down into consumer, trade and custom publications), corporate work, teaching, coaching and speaking. I also calculate (again, as both a dollar value and percentage of income) how much work came from each client).
* Number of assignments
* Number of queries sent
* Number of LOIs sent
* Percentage of queries accepted
* Percentage of LOIs that led to work
* Investment in conferences
* Amount of income earned as a result of attending conferences
The information helps me determine:
The most effective means of finding new work: If I send 100 letters of introduction (LOI) and only land 10 assignments but have a 90 percent acceptance rate for queries, it warrants a closer look at the ROI on those methods.
Assignment/Income ratio: Using the example above, a 10 percent success rate for LOIs might seem low but if those assignments account for a significant percentage of my income, sending targeted letters of introduction to clients may make the most sense.
Clients that should be dropped: It doesn't make good business sense to go into the New Year taking on work that provides minimal ROI. If my annual review reveals that one client assigned 50 percent of my work but only accounted for 10 percent of my income, I reconsider whether to take future work. Remember: a spreadsheet can't measure passion. I have clients whose rates are low but writing for them allows me to cover topics I care deeply about.
Conferences to attend in the New Year: I've been attending the annual ASJA conference since I started freelancing in 2002. It's a good excuse to spend time in New York with some of my favorite freelance friends but there is another reason I invest in travel and conference fees: It leads to work. I've met editors and made connections with freelancers that have led to referrals. In short, the return on investment is high.
Remember: a measurable ROI isn't the only reason to attend/skip a conference. There is immense value in connecting with other writers, hearing about trends and learning new skills.
Between wrapping presents, eating cookies and watching A Charlie Brown Christmas, set aside some quiet time to do your own year-end review. I'd love to know what you find out.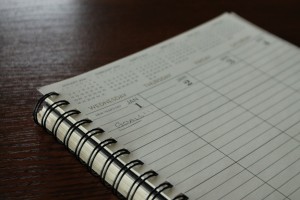 On January 1st, you'll find me curled up under a blanket with a mug of tea and a notebook, plotting a course for freelance domination. For me, the annual resolution-setting ritual is a cherished part of the New Year.
Because it's an annual tradition, I follow a few simple rules: Resolutions fall into four categories: career, personal, financial and growth/development. I choose three resolutions for each of the categories, which equals one resolution to tackle per month.
My resolutions for 2014 include: securing a book contract, expanding my workshop/coaching offerings, starting a beehive, volunteering with a local animal shelter and establishing a regular yoga practice.
I think there are four goals every writer needs to set in 2014:
An income goal: It doesn't matter whether you want to make $10,000 or $100,000 from freelancing, setting a goal matters. Obviously, a financial goal gives you something to strive for but it also guides your decisions about setting rates and accepting/declining assignments.
A financial goal helps keep me on track (I know when to ramp up marketing efforts by looking at the numbers). It also brings out my inner competitor: Can I earn more this month than last? Can I meet a monthly income goal writing for a single client? Yes, I'm easily entertained! J
Diversify: It's tempting to roll into the New Year hoping that regular clients from 2013 will keep calling with work. Even if those assignments continue rolling in, it's a good idea to target new markets (better safe than sorry, right)?
Here is my approach: I choose three new target markets. Picking specific magazines I want to break into makes it easier to keep up with their editorial coverage and develop specific ideas that are a good fit. I also aim for a diverse mix of magazines. In 2014, I'll be targeting a custom publisher, a trade magazine and a glossy newsstand publication. My goal is to turn these target markets into regular clients before the end of the year.
Professional development: At first glance, freelancing seems like a pretty basic business. We research ideas, write queries, interview experts and submit articles. Rinse, repeat. But publishing is changing and there is always something new to learn.
Consider attending a conference on custom publishing to expand your freelance business, signing up for a creative writing workshop or taking a class in social media. (That last one is a biggie for me. I may even end up on Twitter in 2014).
Join a creative community: Writing is a solitary profession. Finding a community of like-minded writers can provide much-needed connection. If you don't have the support of other writers (either as part of a local writing group or a member of an online community like FreelanceSuccess.com) you could miss out on the opportunity to celebrate successes and lament struggles with other writers. A community of writers is also valuable to keep you informed about the daily realities of the writing life from new leads and editor job changes to avoiding magazines with troubles meeting their freelance payrolls.

What are your 2014 writing goals?