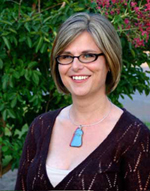 Jodi is available to speak on
a variety of topics including:
Writing
Prepare for Publication: How to Get Started
as a Freelance Writer
The $50,000 Freelancer: Take Your Writing
Career to the Next Level
The Business of Writing
Publishing Your First Book
Travel Your Way Around the World: How to
Earn a Living as a Travel Writer
Sustainable Living
Green living on a budget
Raising eco-friendly pets
Going green at work
The health benefits of going green
Green careers
Jodi can also tailor topics to meet your needs
Contact her to learn more.
speaking
Jodi Helmer is a dynamic speaker who knows how to engage an audience. She has moderated panel discussions, led workshops, taught classes and spoken at events across the U.S. and Canada, including UNCC Women's Leadership Conference, Charlotte Clean & Green Festival, Clark College, University of Richmond, Better Living Show, the American Society of Journalists and Authors conference and The Magazine Conference in Boulder, Colorado.
Here are a few of her past appearances:
Go Green Expo
Cobb Galleria Centre
Atlanta, GA
Green Jobs panel followed by a book signing
Sensoria Arts Festival
Charlotte, NC
Travel Your Way Around the World: Travel writing as a career
Charlotte Clean & Green Festival
Central Piedmont Community College – Central Campus
Charlotte, NC
25 Ways to Go Green for Under $50
Better Living Show
Portland Expo Center
Portland, OR
25 Ways to Go Green for Under $50
Women's Leadership Conference
University of North Carolina, Charlotte
Charlotte, NC
Inspiring Environmental Change: A panel discussion featuring women in environmental leadership
LaGrange College
LaGrange, GA
Green Jobs After Graduation
press
Jodi is often quoted in the media as an expert on green living and appears as a guest on radio and TV programs nationwide. Here are a few of her
press mentions: